How the Air Ambulance Service is Provided in Partnership
What is the EMRTS?
The Emergency Medical Retrieval and Transfer Service (EMRTS Cymru) was established on the 27 April 2015. The service was commissioned 'to provide advanced decision making and critical care for life or limb threatening emergencies that require transfer for time critical specialist treatment at an appropriate facility.'
EMRTS Cymru is a clinically led service, commissioned by the Emergency Ambulance Services Committee, and is hosted by Swansea Bay University Health Board.
EMRTS Cymru has been developed to bring specific benefits to Wales, specifically:
Reductions in geographical inequity for patients with critical care needs.

Health gains by improving clinical outcomes.

Improved clinical and skills sustainability – improving the clinical skills, recruitment, and retention in key acute care areas.
There is also a service provision for the enhancement of neonatal and maternal pre-hospital critical care (both for home deliveries and deliveries in free-standing midwifery-led units).
The service provides a highly trained critical care team comprising consultants (from an emergency medicine, anaesthesia, and intensive care background) and critical care practitioners (who are advanced-trained former paramedics and nurses). The service has two main areas of activity:
Pre-hospital critical care for all age groups (i.e., interventions/decisions that are outside standard paramedic practice).

Undertaking time-critical, life or limb-threatening adult and paediatric transfers from peripheral centres for patients requiring specialist intervention at the receiving hospital.
What is an EMRTS team?
EMRTS provides a highly trained critical care team comprising:
Consultants (from an emergency medicine, anaesthesia, and intensive care background) and

Critical Care Practitioners (CCPs) (advanced-trained former paramedics and nurses).
Consultants and CCPs are all funded by NHS Wales. EMRTS Consultants work in hospitals (in Wales and England) and do 'shifts' for EMRTS. Paramedics and Nurses are employed as Critical Care Practitioners and they work full-time for EMRTS. The EMRTS team will either be a Consultant and a Critical Care Practitioner or two Critical Care Practitioners (occasionally this may include a Helicopter Transfer Practitioner). The pilot works for the air operator and is a key part of the daily crew.
What is the difference between Wales Air Ambulance Charity and EMRTS?
Wales Air Ambulance is the Charity (WAAC) which fundraises to provide the helicopters, pilots, fuel, and engineers, that is, the WAAC provides and delivers the operational infrastructure.
EMRTS, a part of NHS Wales, is responsible for the delivery of the clinical staff and services, NHS support staff and medical equipment. Between the Wales Air Ambulance Charity (WAAC) and NHS Wales' EMRTS Cymru, the air ambulance service is provided in partnership for the people of Wales.
When was EMRTS established?
EMRTS Cymru was first established in 2015.
How many bases are there currently providing this service for Wales?
There are four bases providing the air ambulance service covering the whole of Wales:
Caernarfon

Cardiff

Llanelli (Dafen)

Welshpool
Where are the EMRTS teams based and what time do they operate?
The following map shows where the EMRTS bases are and their operating hours: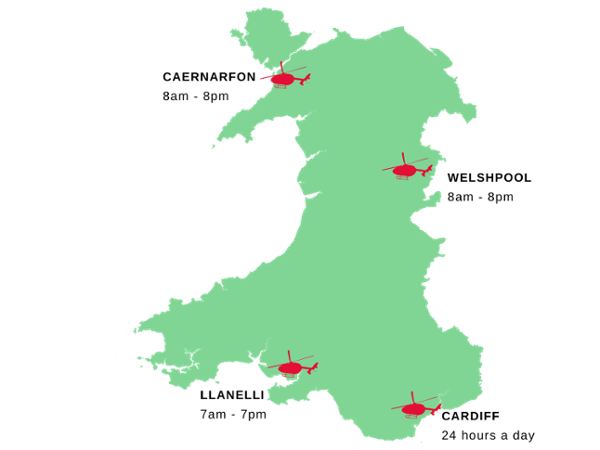 What EMRTS resources are at each base?
EMRTS was initially established in 2015 at two bases, one at Welshpool airport and one at Swansea airport. The teams operated 12 hours a day, 7 days a week and provided a clinical service across Wales by helicopter and/or Rapid Response Vehicle (RRV).
Since then:
The base at Swansea airport moved to a new base in Llanelli in 2016.

In 2017, a new EMRTS service was established at Caernarfon airport, operating 12 hours a day, 7 days a week and responding across Wales by helicopter and rapid response vehicle.

In 2020, EMRTS developed the 24-hour service with the start of a 12-hour night service from Cardiff Heliport using a helicopter or rapid response vehicle.

In 2022, 12-hours per day, 7 days a week the service commenced, responding by helicopter or rapid response vehicles (RRV) from Cardiff Heliport.
How many EMRTS teams covering Wales operate during the day and night?
Four teams during the day (Caernarfon, Cardiff, Llanelli, and Welshpool). One team at night (Cardiff only).
Why is there only one team providing night (24 hours) cover?
Responding overnight provides a number of challenges in terms of staffing, training and equipment required. The addition of the fifth team (night shift) to the service happened in 2020, initially by road whilst preparations were made for flying during the hours of darkness. This was introduced with a vision that further analysis of demand (or unmet need) would be made to inform the next steps of expansion into the hours of darkness.
How does EMRTS know which patients to go to?
The EMRTS team respond to patients at the request of the EMRTS Critical Care Hub (ECCH) based in the ambulance call centre in Cwmbran. An EMRTS Critical Care Clinician and a Dispatcher are available 24-hours a day to review 999 calls to see if incidents would benefit from EMRTS input. If needed they can send a team from anywhere in Wales and if it is required, they can send more than one team (e.g. multiple patients, or complex clinical needs)
In addition, there is always (24 hours) a separate EMRTS Consultant on call from home to provide remote advice to EMRTS crews if required. This is called the "top cover" Consultant.
Will the team from the nearest base to the incident scene come to me?
Not necessarily. The EMRTS team could be sent from any base in Wales. The ECCH will consider the requirements of the call and will consider which teams are currently available, some teams will have a doctor and a critical care practitioner, and some teams will have two critical care practitioners. It will depend on what the patient's clinical needs are.
The team may be asked to attend from their base, or they may be asked to attend while they are flying home from a previous call. Sometimes when the weather is poor they can also forward locate in RRVs in areas that enable them to reach incidents quicker (e.g. near the main road network).
Does the air ambulance provide services across the border to patients in England?
If all EMRTS teams are already busy, English air ambulances may respond across the border to help, EMRTS also do this when English critical care teams are busy. This happens less than 2% of the time so it is quite rare. In all cases across the border, this is only done at the request of the neighbouring ambulance services. Calls across the border are not visible to the Welsh control room automatically, and vice versa.
Who will I see first?
When you call 999 you will firstly speak to a trained member of the Welsh Ambulance Services NHS Trust (WAST) to prioritise your call for a response by them. In addition to WAST arranging help, the EMRTS Critical Care Hub (ECCH) has an overview of all calls received by WAST and will clinically review any incident from the control centre to see if an EMRTS team should also be sent. It is important to note that EMRTS response is in addition to a WAST response, not instead of. In most cases, you will see a WAST ambulance resource first.
Does the air ambulance response arrive more quickly than traditional road ambulance resources from Welsh Ambulance Service?
No. It is rare for the air ambulance to arrive first, as often the decision to send one is based on clinical information from the ambulance staff on scene. The majority of incidents attended already have an ambulance resource present.
Isn't the Air Ambulance a back-up for the Welsh Ambulance Service to get to an incident scene quicker?
No. Nearly always, WAST teams will attend the scene first. The air ambulance provides an advanced clinical service to the incident scene providing time-critical interventions before taking patients to the most appropriate hospital setting for ongoing care and treatment.
How long does it take for an air ambulance crew to arrive at scene?
The average response time from 999 call to being able to land at scene is around 50 minutes.
What is the 'golden hour'?
The 'golden hour' is a historical term often used in trauma or emergency care to suggest that an injured or sick person must receive definitive treatment within the first 60 minutes from the time of injury or appearance of symptoms. The concept is now very outdated and has been substantially discredited by clinicians. The whole pathway of care is now different with many lifesaving interventions being made by first responders and ambulance clinicians in the early period following injury or illness, and in appropriate cases the delivery of critical care and onwards transfer to definitive care by EMRTS. For the patient this can mean hours saved when compared to standard care (going to the right hospital) and therefore the initial response time is less critical.
Will they come in a helicopter or car?
Once the team are requested by the EMRTS Critical Care Hub to respond to a patient, the EMRTS team will decide whether to attend by helicopter or by rapid response vehicle. This will depend on many factors including distance to travel, location and ease of access, weather conditions, and time of day.
What if all EMRTS teams are already busy?
There are times when EMRTS teams are already busy and services from England are also busy. This happens on most days, and for those who don't receive an EMRTS response this is called the 'unmet need', that is, patients would benefit from the service aren't able to receive it. These patients are still treated by the ambulance service and are generally transferred to the nearest hospital. Once they have been stabilised, they may need to be transferred to a specialist hospital for their definitive care.
Does the air ambulance take patients from scene to Welsh hospitals only?
No. Patients are taken to the most appropriate hospital for ongoing care and treatment based on clinical need. This may be a centre of excellence (for example: Stoke's major trauma centre).
Does the EMRTS team go back to their base after attending each incident before attending another incident?
Not always. Normally, if there is not another patient to attend to, EMRTS will return to their base, however sometimes they may have to go to the next emergency call straight from the previous one. This is unusual and the EMRTS team return to base for the end of their shift most of the time.
Does the EMRTS service provide good clinical outcomes for patients?
Yes, this is evidenced in one of the most extensive evaluations by any air ambulance operation anywhere in the world.
Key findings from the evaluation include:
The introduction of EMRTS was associated with a significant reduction (37%) in 30-day mortality for patients with blunt traumatic injury.

Emergency inter-hospital transfers were reduced by 41%.

Increased number of patients were delivered to the right hospital first time: 42% of patients bypassed local hospitals to be taken directly to more specialist care.

Critical interventions were available outside hospital where necessary:

63% (6,018) of patients attended received interventions that are outside standard ambulance service practice.

313 patients received blood product transfusions.

790 patients received pre-hospital anaesthesia.
How many patients does the air ambulance service treat every year?
3,247 calls between 1 April 2021 and 31 March 2022 (*Source: EMRTS Annual Report 2021-22)
How much does the air ambulance service cost to run each day/week/month/year?
The EMRTS Annual Report 2021-22 confirmed a revenue funding allocation of £7.45m.
The Wales Air Ambulance Charity needs to raise £8 million a year to fund the helicopter and rapid response vehicle operations, and bases. This will increase to £11.2 million per year in 2024 due to the implementation of the new aviation contract, the direct leasing of 3 aircraft, fuel costs, and the general increase in the costs of goods and services.
Do all bases undertake the same amount of work?
No. The data shows that both Caernarfon and Welshpool bases have utilisation levels below the South Wales bases.
Therefore, an opportunity exists to review the operating model of both Caernarfon and Welshpool bases to increase their usage and deliver higher levels of utilisation for the population in Wales. The EAS Committee has recognised that these bases may never have the same levels of utilisation as the bases in South Wales.
The following table captures utilisation data (% utilisation of available shifts) for EMRTS by base and calendar year (taken from the WAST Computer Aided Dispatch system), combined with electronic Patient Clinical Record data to define shift frequency for Cardiff base, where there were multiple teams operating: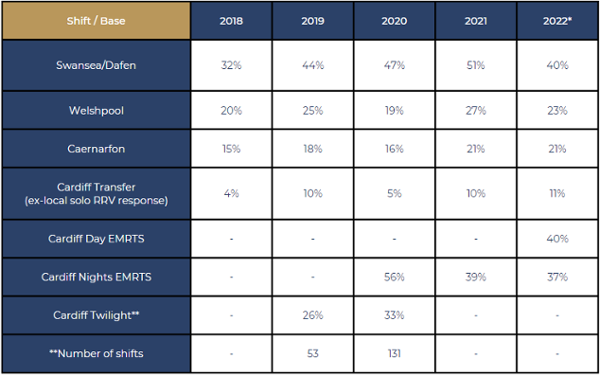 What is the Emergency Ambulance Services Committee (EASC)?
The Emergency Ambulance Services Committee (EASC) is required by law to be the body responsible for the commissioning of ambulance services in Wales. The services commissioned by EASC are:
Emergency Ambulance Services (by WAST)

Non-Emergency Patient Transport Services and (by WAST)

the Emergency Medical Retrieval and Transfer Service (by NHS Wales).
Who makes up the Committee of EASC?
the Chief Executives of the seven Local Health Boards,

an Independent Chair

a Chief Ambulance Services Commissioner (CASC).
The NHS Trusts in Wales are represented as Associate Members, these are:
the Welsh Ambulance Services NHS Trust,

Velindre University NHS Trust and

Public Health Wales.
EASC is hosted by Cwm Taf Morgannwg University Health Board.
What are the governance arrangements for EASC?
These are illustrated below: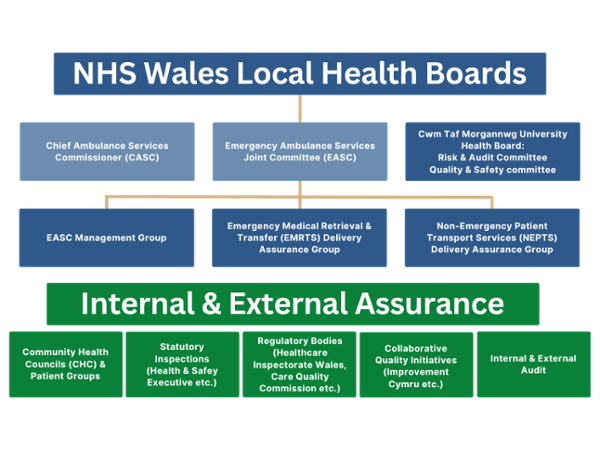 What is the relationship between EASC, EMRTS Cymru and Wales Air Ambulance Charity?
EASC is responsible for the commissioning (i.e., ordering) of the EMRTS Cymru, this includes the funding of EMRTS Cymru. WAAC is an independent Charity that works in partnership with EMRTS Cymru.
These arrangements are illustrated below: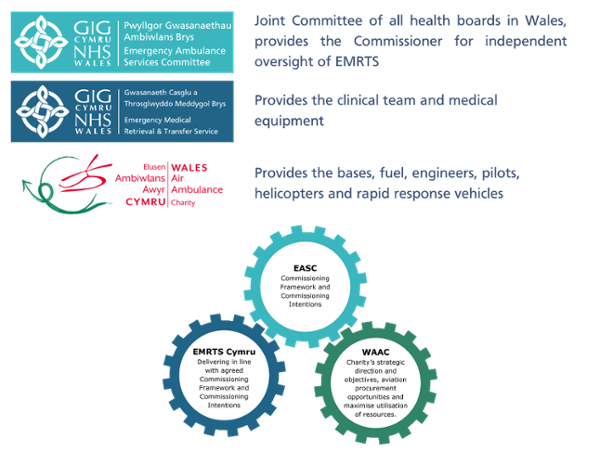 Is there a mid-Wales air ambulance?
No. EMRTS / Wales Air Ambulance provide one national service for the whole population of Wales and is not ring-fenced for any specific area. It is co-ordinated and delivered on the basis of clinical need as one service covering the whole of Wales.
Does the Wales Air Ambulance Charity own the helicopters and airbases?
At present, the four aircraft are leased and supplied by the current aviation provider Babcock Onshore. As of 2024, WAAC will directly lease three of the four helicopters. The remaining aircraft will be leased by the new aviation provider Gama Aviation.
WAAC owns the base in Dafen (Llanelli) and has a long-term lease for Cardiff Heliport. The base locations at Caernarfon Airport and Welshpool airport are secured via a contract with the respective airport owners.
The current average cost per base, per day is £10,000. From 2024, this will increase to £13,000. The majority of these costs are associated with aviation charges (aircraft operations plus staff) and medical crewing.
Is there a new aviation partner for Wales Air ambulance Charity?
Yes, from 2024 onwards. Following an extensive eighteen-month procurement process, it has been announced that Gama Aviation will provide the air ambulance aviation service in Wales between 2024 and 2031.
Gama Aviation will operate four H145 aircraft, supplying the pilots and the engineering requirements. Additionally, the contract also includes a backup aircraft. For more information, visit Wales Air Ambulance Announces New Aviation Partner | Welsh Air Ambulance Charitable Trust.
The contract has flexibility with regard to service delivery options (base locations, operational hours, after-dark flying), acknowledging the current independent EMRTS Service Review being undertaken by the Chief Ambulance Services Commissioner.